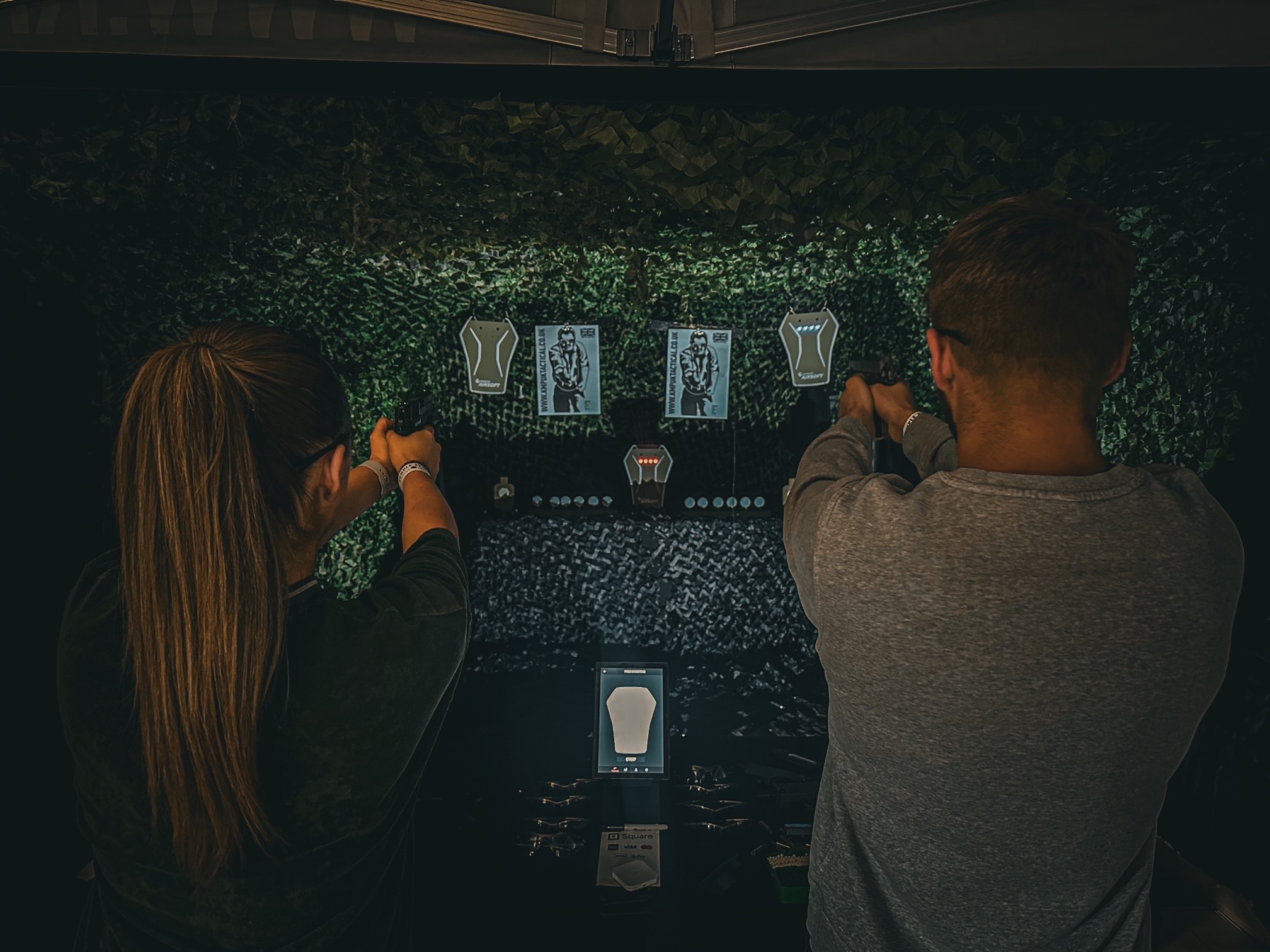 INTRODUCING, KMP UK TACTICAL


UNIQUE SHOOTING RANGE EXPERIENCE & AXE THROWING AVAILABLE FOR PRIVATE HIRE & EVENTS


USING HIGH QUALITY, GAS POWERED, REALISTIC IMITATION FIREARMS, WE BRING YOU AS CLOSE AS POSSIBLE TO THE REAL THING IN A SAFE AND FUN ENVIRONMENT. PLUS, WITH OUR MOBILE SHOOTING RANGE, WE BRING THE FUN TO YOU!


DUE TO THE HIGH QUALITY OF THE WEAPONS IN OUR ARMOURY, THEY LOOK, WORK AND OPERATE JUST LIKE THE REAL THING – GIVING YOU A SENSE OF REALISM AND FELT RECOIL EVERY TIME YOU PULL THE TRIGGER. SOME EVEN EJECT SHELL CASINGS WHEN FIRED


EVER WANTED TO SHOOT THAT GUN FROM YOUR FAVOURITE FILM OR VIDEO GAME?
WELL, THANKS TO KMP UK TACTICAL, YOU CAN UNLEASH YOUR INNER 'JOHN WICK' IN A FUN AND SAFE ENVIRONMENT
GET HANDS ON WITH A RANGE OF INFAMOUS AND WELL-KNOWN MODERN AND HISTORIC WEAPONS INCLUDING:


- GLOCK 17 - SIG SAUER P226 - LUGER - COLT 1911 - FULL AUTO GLOCK 18 - .357 MAGNUM REVOLVER - DESERT EAGLE .50 - HK G36C - AK47 - BRITISH ARMY SA80 - HK MP5 - HK MP5K – HK 416 CARBINE - RPG 7 - BARRETT .50 CAL RIFLE



HOSTING A CORPORATE EVENT, SHOW OR TEAM BUILDING EXERCISE? WANT SOMETHING DIFFERENT FOR YOUR GUESTS AT A WEDDING OR PARTY? CONTACT US TODAY AND HIRE US FOR YOUR EVENT


WE HAVE A NUMBER OF DIFFERENT PACKAGES AVAILABLE TO SUIT YOUR REQUIREMENTS, AVAILABLE TO HIRE AT FIXED RATES WITH NO HIDDEN COSTS


WE CAN EVEN OFFER CUSTOM RANGE SET UPS TO SUIT YOUR SPECIFIC NEEDS AND REQUIREMENTS. JUST CONTACT US TO DISCUSS FURTHER
ALL OUR PACKAGES AND SERVICES INCLUDE FULL TRAINING AND TUTORSHIP BY EXPERIENCED, FRIENDLY AND KNOWLEDGEABLE STAFF WITH A BACKGROUND OF EXTENSIVE FIREARMS KNOWLEDGE AND EXPERTISE


BAD WEATHER? NOT A PROBLEM! DUE TO THE UNIQUE DESIGN OF OUR RANGE, WE CAN EVEN SET UP INSIDE YOUR VENUE!


KMP UK TACTICAL – OFFERING A FUN AND SAFE SHOOTING EXPERIENCE FOR PEOPLE OF ALL AGES


FOR BOOKING ENQUIRIES, PLEASE CONTACT US USING THE CONTACT PAGE FOR A NO OBLIGATION QUOTE FOR YOUR EVENT